With a dynamic online workshop, partners in AHA gathered to ring in the next stage of the project. Participants discussed first insights from the fieldwork and new future scenarios for each of the two study areas.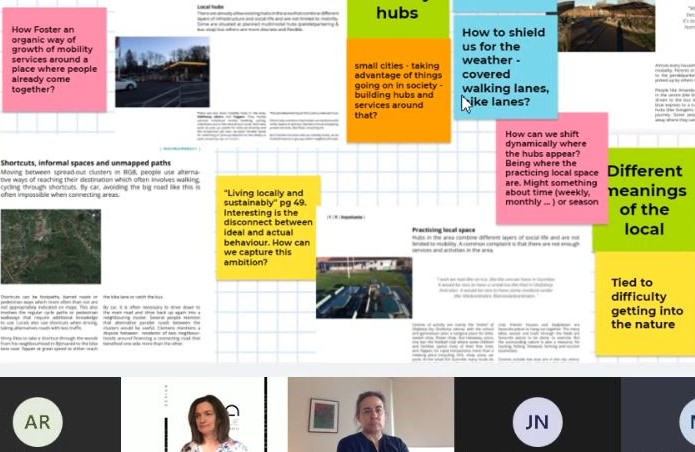 This stakeholder workshop in January 2021 was an opportunity to share and discuss insights from the ethnographic fieldwork with AHAII partners and to imagine new ideas for moving forward.
The research team presented their new 'catalogue' of insights along with a number of key themes for the analysis. Discussions in mixed groups revealed that participants especially noted how much of daily mobility is collective and social, centred around families and neighbourhood relationships. Questions around family logistics and who people would be willing to share mobility solutions with came up. Infrastructure and safety issues were brought back as important features for improving multimodality and everyday mobilities. At the same time, flexible improvements to existing practices were pointed to as opportunities for future mobilities.
By comparing results from Drottninghög and Bergum-Gunnilse, the differences in mobility needs were outlined, but also a lot of common ground when it comes to raising novel questions regarding future mobilities. The comparison was used to reframe – and rethink – key concepts such as the first and the last mile and mobility hubs. Discussing these reframings, participant groups came up with new realisations, questions and suggestions around some emerging core themes and created best and worst case scenarios for mobility hubs and first and last mile travel.
Moving on from these collaborative efforts, the next steps to take by the different partners in the project were established.